Custom Replacement Bay Windows
A bay window is a set of three windows, which are angled out and away from the house. The center window is typically a fixed, picture window, that's around 50 percent larger than the windows on either side (called flankers). A bay window can be hexagonal, octagonal or square in shape, and offers a homeowner extended views, an abundance of natural light and additional space for seating or storage. Most homeowners choose to install double-hung windows or a crank window as the flankers, which can be opened and closed for ventilation.
"If the homeowner wants a larger seat board and a larger picture window, they'll want to install a bay window, also, if you want wider flanking windows that you can open, choose a bay."
A bow window is a set of four to six windows, also projecting out from a home's exterior wall, but in which all of the windows are the same size. Bow windows are more symmetrical, and create more of a curved appearance than a bay window. Bow windows tend to let more light into a room, as they're comprised of more glass panes than a bay window. They also have the ability to wrap around the corner of a house, giving the homeowner a unique viewpoint. But it may come down to the structural design of your home that determines what type of window fits best. Contact a Renaissance Windows & Doors Replacement Consultant today here!
What Is The Difference Between A Bay & Bow Window?
At first glance, bow and bay windows can look a lot alike. Both will do much to open up a room and let it breathe, giving the appearance of more space and letting in more light while adding a splash of glamour to any room.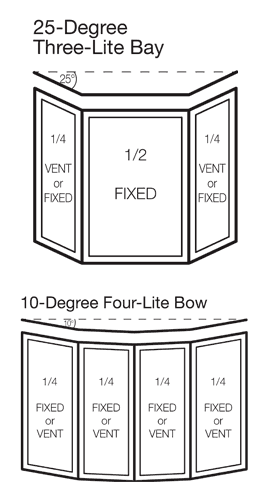 Here are the major differences between the two:
A bay window has three openings, available in angled projections. A bow window usually has four or five.
A bay window's overall structure consists of a picture window with two other windows, usually smaller, on either side. A bow window's structure is curved, creating a rounded appearance on the outside of the home. (These bow windows are usually referred to as a "four-lite bow" or a "five-lite bow.")
The angular lines and flat planes of a contemporary bay window are often considered more appropriate for modern homes, while the semi-circular outer structure of the bow window is ideal for any architecture that smacks of the Victorian. Of course, either type is perfectly acceptable for just about any style home.
Bay windows protrude farther from the wall out into the exterior space, adding a bit more floor space on the interior.
Bow windows frequently allow more light to come into the room since they have more glass panes than bay windows.
Because bay windows only have three panels, they're seldom as wide as bow windows.
Bow windows can be wrapped around the corner of a building, forming a unique turret shape on the outside and an enticing nook on the inside. This advantageous option also allows for a view from two sides of the home.
Advantages of Bay & Bow Windows
Adds Value To The Home.
Bay & Bow replacement windows are often chosen for their aesthetic appeal. From the outside, the shimmering glass gives the home a clean, modern look. On the inside, the style looks elegant and creates a feeling of additional space. Aesthetic appeal and increased square footage add to the resale value of your home.
Allow Natural Light To Enter.
Bay & Bow windows have panoramic views, so they allow more natural light to enter from multiple directions.
Good Ventilation.
Because bay & bow windows offer the option of having two operating windows, the homeowner and guests can enjoy a nice breeze from two directions instead of just one.
Versatility.
Bay & Bow windows can be found in any room in Victorian homes, but they're also a popular enhancement for modern homes. They can be installed anywhere, but bay windows are popular in the kitchens and living rooms of modern homes. The area around the window allows for a reading nook or banquette style seating.